Wedding Gown Design Styles With Long Sleeves
I have always loved the elegance of Victorian-era wedding gowns and dresses. The wedding gowns then were usually designed to be modest in look, so that the bride exuded a demure beauty and grace that were becoming of brides in that time period. Overt sexy looks were not in fashion, and considered to be cheap! As an example take a look the what Queen Elizabeth of Englang wore at her wedding - a wedding gown that can still be considered beautiful in this day and age.
However, modern brides today want to look great (that is, overtly sexy) - and hence the off- shoulder gowns, the corset waisted styles and the fitted fishtail skirt designs are all in rage in many bridal gown shops. That leaves little options for the brides seeking a more modest, yet beautiful wedding gown.
I took some time to search the Internet for beautiful wedding gowns that are modest (long-sleeved or full skirts for instance) yet modernized enough to look elegant and not frumpy. I call them my Victorian-inspired and Medieval-inspired wedding gowns! :)
I hope you are inspired by these wedding gown picks.
High Collared Wedding Gown
This one has a high collar, with inspired with a jacket design that isn't really a jacket. The sleeves are three quartered length with a full A-line skirt. Simple, smart looking wedding gown.
Medieval-Inspired Wedding Gown
I really like this one because it is unique. It is very simple, yet elegant. And it also comes with a beautiful cover-up hooded golden gown! Perfect for a theme wedding based on medieval times.
Two Piece Wedding Gown
I like the idea of having a two piece wedding gown. A simple white A-line dress inside, and an elaborate heavy lace top piece with a long train. I would like to make the sleeves three quartered though, would make it look better, in my view.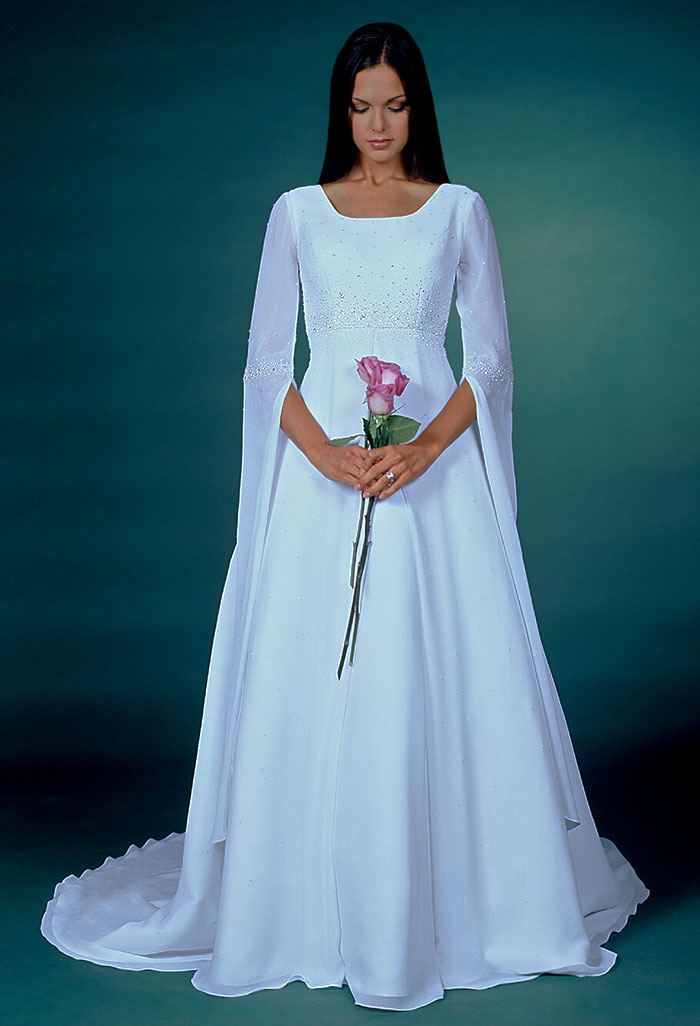 Flowing Long Sleeved Wedding Gown
This one is perfect for a bohemian themed wedding ceremony. It gives a feeling of a brode that is so light, flowing and happy. A young bride would certainly look great in this piece. The sleeves at the elbow area are cut in a way so that it almost flows into the long gown itself. Absolutely beautiful dress.
Full skirted Wedding Gown
Long sleeved laced wedding gown with a colored band around the torso. The skirt is full and reminiscent of the Victorian-era wedding gowns. The embroidered edgework around the hemline of the skirt also makes this piece beautiful.
Click here to view more modest wedding dress designs:
Modest Wedding Dress Designs
Labels: Wedding Dress, Wedding Gowns